Similar Jobs
Gopal Pura Mode, Jaipur
Fresher may apply
HTML

,

Angular JS

,

JavaScript

,

Jquery

,

Php

,

Web Designing

,

Web Development

,

User Interface Designing
Gopal Pura Mode, Jaipur
Fresher may apply
JavaScript

,

HTML

,

Web Designing

,

Web Development

,

Android Application Development

,

.Net

,

Php
Gopalpura
0-1 Year
Manual Testing

,

Automation Testing
Ios Developer Job in Wdp Technologies Pvt. Ltd. Jaipur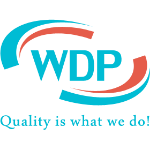 Ios Developer
Wdp Technologies Pvt. Ltd.
http://www.webdevelopmentpark.com
https://images.worknrby.com/P7uKLXOTBeXXfzdQkagx3w==/profile_1545043663827.jpg
Visit Website
1-2 Years

Full Time

INR

15000 - 20000

Per Month

25-50

Jaipur

Gopal Pura Mode, Jaipur, Rajasthan, India

Jaipur

India

NA
Job Category
IT & Software Development
Skills
XCode
API Integration
Language Preference
English
Hindi
Job Summary
Required experienced iOS developer with good understanding of iOS app development in Xcode, Objective-C, Swift, JSON parsing, Cocoa controls, web services, API integration, knowledge of deploying apps in an apple store. Must have atleast 1 year of experience and good understanding skills. Responsibilities and Duties Design and develop applications for the iOS platform Collaborate with cross-functional teams to define, design, and ship new features. Work on bug fixing excellent debugging skills and improving application performance. Continuously discover, evaluate, and implement new technologies to maximize development efficiency. Required Experience, Skills and Qualifications 1+ year experience in developing iOS applications. Proficient with Objective-C or Swift, and Cocoa Touch Experience with iOS frameworks such as Core Data, Core Animation, etc. Experience with offline storage, threading, and performance tuning Familiarity with RESTful APIs to connect iOS applications to back-end services Knowledge of other web technologies and UI/UX standards Understanding of Apple's design principles and interface guidelines Knowledge of low-level C-based libraries is preferred Experience with performance and memory tuning with tools such as Instruments and Shark Familiarity with cloud message APIs and push notifications Knack for benchmarking and optimization Proficient understanding of code versioning tools such as Git, Mercurial or SVN Familiarity with continuous integration.